Did you know that some Swiss Army Knives cost more than an iPhone or even a diamond ring? Welcome on board as we try to find the most lavish and expensive Swiss Army Knives.
In the world of collectors and enthusiasts, SAKs are more than just ordinary multi-tools – they're dazzling works of art and craft. We will go through some of the costiliest SAKs ever made, examining their unique features, and the factors that make some of these knives worth a small fortune!
Why Are Some Swiss Army Knives So Expensive?
Why Are Some Swiss Army Knives So Expensive?
Before we check the exclusive list of the most expensive Swiss Army Knives, let's take a step back and understand what contributes to their hefty price tags.
The value of an expensive Swiss Army Knife isn't just about its functionality. It's a cumulative result of several factors, each conveying a unique tale of art, history, and rarity.
Historical Significance: Just like a precious artifact, a Swiss Army Knife's historical importance plays a massive role in its valuation. For example, some SAKs, manufactured during significant events or marking milestone years, attract collectors willing to pay a significant amount for them.
Rarity: It's a simple rule of economics – the scarcer an item, the higher its value. In the case of SAKs, models that saw limited production runs, special edition releases, or those discontinued, command higher prices due to their rarity.
Unique Features: Specifications such as blade types, number of tools, or even special additions like USB sticks, LED lights, or embedded diamonds significantly add to a Swiss Army Knife's perceived value.
Material Quality: SAKs are normally made using materials like stainless steel, aluminum, plastic/cellidor, etc. In contrast, collectible models with premium materials such as pearl or old fiber handles see their value increased manifold.
As you can see, owning an "Expensive Swiss Army Knife" is more than just having a multi-utility tool – it's about possessing a piece of art, history, superior craftsmanship, exclusivity, and yes, a certain pride that comes with it.
The Most Expensive Swiss Army Knives Ever Made
Here are some of the most expensive Swiss Army knife models, each with its unique features that contribute to their high price.
Whether you're a collector, an enthusiast, or someone fascinated by Swiss Army Knives, I hope this list gave you key insights into what makes these little chunks of metal so much more than just a tool, so precious, and, of course, so expensive.
The Victorinox Swiss Army Platinum Diamond Knife
We wanted to create a Swiss Army Knife for the 120th anniversary of Victorinox that communicated the importance and rarity of this milestone
Carl Elsener Jr., CEO and chairman at Victorinox
As far as the official price goes, I do not think any other model can beat the Victorinox Swiss Army Platinum Diamond Knife. With a breathtaking design aesthetic and an exclusive set of features, this model is nothing short of a marvel.
This luxurious model was launched under a collaboration between Victorinox and the renowned jeweler Bonfort. While Victorinox took care of the tool manufacturing and functionality, Bonfort added a layer of incomparable luxury by embedding it with 800 hand-selected diamonds.
On the design front, it is based on the Victorinox Classic and has the same set of tools as the Classic.
Standout Feature
The standout feature of the Swiss Army Platinum Diamond Knife is undoubtedly the diamond-studded platinum casing, making it visually stunning and adding a new definition of luxury to Swiss Army Knives.
Recorded Price
The highest recorded price for this diamond-encrusted Swiss Army Knife was over $100,000 when it was released in 2004.
Reasons behind the High Price
Multiple factors add up to such a high price for the Swiss Army Platinum Diamond Knife. The model is embedded with diamonds, which significantly boosts its value. The Platinum casing doesn't just add to the strength and durability of the knife, but also its exclusivity and price. The collaboration between Victorinox and Bonfort, both experts in their respective fields, brings in a brand exclusivity that not every SAK can offer.
This SAK is a perfect example of how with the right collaboration, historical legacy, and careful material selection, a simple tool can become a sought-after collector's item.
Wenger Giant
The Wenger Giant is not only the World Record holder for being the largest Swiss Army Knife, but it is also one of the most expensive Swiss Army Knives you can buy.
I know a SAK like this deserves its own page. I have written everything about the Giant in this post including what inspired Wenger to design such a knife.
The Giant wasn't initially intended for sale.
But seeing interest from ardent collectors, Wenger decided to produce a limited quantity of this model for those willing to own this magnificent piece.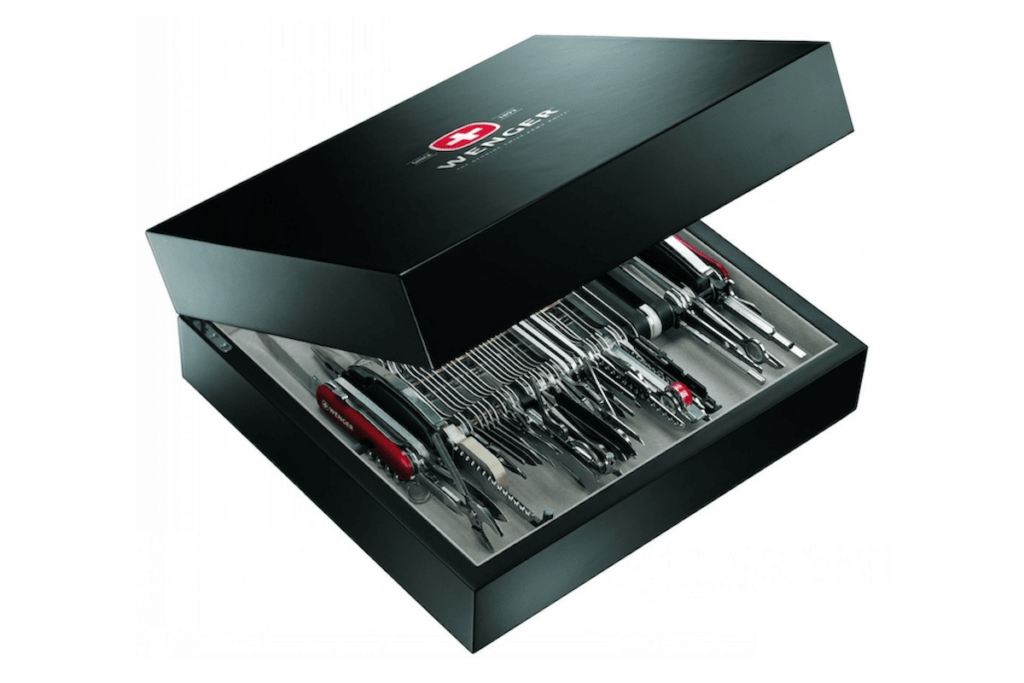 Standout Feature
The Giant stands out among all Swiss Army Knives ever made in the number of tools that it has. With 87 tools that can perform 141 different functions, the Giant is in a league of its own.
Recorded Price
The first few models of the Giant sold for around GBP 550. The price has gone up every year as Wenger added more tools to the Giant. The retail price has gone as high as $1,500.
As it is currently off the market, and is only available from collectors and third-party sellers, the price can fluctuate anything between $8000 – $12000.
Reasons behind the High Price
The Guinness World Record, the manufacturing cost, and the limited production, all contribute to the hefty price tag of the Wenger Giant. After all, which SAK collector doesn't want to own The Giant?
Victorinox Swiss Champ XAVT
Being the largest Swiss Army Knife made by Victorinox, the Swiss champ XAVT is also one of the costliest SAKs you can get hold of.
The model made in 2006 is retired now and replaced by the Swiss Champ XXL. But when it comes to price, the XAVT trumps all other utility SAK models made by Victorinox.
You can learn more about this awesome Swiss Champ XAVT in this post.
Standout Feature
82 functions within one Swiss Army Knife, and that too in a compact package that you can carry in your pocket – that is what the XAVT is. Also, features like the digital clock, altimeter, and barometer are notably unique to this model.
Recorded Price
The Swiss Champ XAVT used to be available online for around $400-$450. Nowadays it is only available from third-party sellers or collectors, and the price can get as high as $700 or even more.
Reasons Behind the High Price
There are many significant factors contributing to making Swiss Champ XAVT one of the most expensive Swiss Army Knives. The most compelling reason for this model's value is the large variety of tools it hosts, some of which are not found in any other model.
Add to that the history associated with the XAVT. Victorinox retired the model in 2021, triggering a price increase. Since then, it has attained a similar status as the Wenger Giant.
Wenger 1893 Heritage Knife
A vintage sensation and an expensive SAK by every standard, the Wenger 1893 Heritage is a rare collectible.
There is a rich history behind this model. The first knife designed based on the specifications of the Swiss Army was the model 1890, manufactured by Victorinox.
However, the first 'Standard Issue' Soldier Knife for the Swiss Army manufactured by Wenger was in 1893.
In 2008, Wenger created a 'limited edition' replica of their 1893 model Soldier Knife which they called the Wenger 1893 Heritage Knife.
Standout Feature
The Wenger 1893 Heritage truly reflects its vintage appeal with an impressive 3.92-inch cannon spike – a tool once useful for naval artillery. This, combined with its luxury walnut box, is an irresistible charm for any collector.
Recorded Price
The price of the Wenger 1893 Heritage Swiss Army knife varies depending on the seller and the condition of the knife. However, based on the search results, the price ranges from $400 to $1500.
Reasons Behind the High Price
Wenger 1893 Heritage Knife carries historical weight, which is reflected in its pricing. Also, as its production was limited to just 1893 units worldwide, its rarity is a significant reason for its high value.
Each of the 1893 units of the Wenger 1893 Heritage is numbered. The serial number of each can be seen on the tang stamp of the blade.
Victorinox Classic Gold Ingot
As the name suggests, it is the same Victorinox Classic, but with the addition of a 1-gm gold ingot.
Victorinox promotes it as the pocket knife for the 'the gentleman traveler'.
This decorated piece was introduced by Victorinox to mark the millennial year celebrations, reflecting the brand's ability to blend state-of-the-art technology with intricate design elements.
Standout Feature
The gold ingot, made of 999.9/1000 fine gold, embedded on the scale of the SAK makes it a unique keychain multi-tool.
Recorded Price
The Victorinox Classic Gold Ingot is usually available for around $200-$250. Unlike the SAK models discussed above, the Classic Gold Ingot is still in production, hence the price doesn't fluctuate that much (check price on Amazon).
Reasons Behind the High Price
As you can see, the price of the Classic Gold Ingot is around 10-15 times the price of the normal Victorinox Classic model. The purity of the Gold used, combined with the historic merit associated with being part of Vicorinox's millennial celebrations enhances its value.
Victorinox Damascus Swiss Army Knives
The Victorinox Damascus models of Swiss Army Knives (or Victorinox Damast), are born from the ancient art of Damascus steel forging.
It is a millennia-old technique that renders the steel exceptionally strong and gives the blade a beautiful, water-like pattern.
Victorinox releases a new Damascus model annually, making each a unique and sought-after treasure, not to mention very very expensive.
Standout Feature
What sets the Damascus models apart is their blade – forged from Damascus steel, presenting a strikingly beautiful and unique pattern on each blade, a result of hundreds of layers of steel folded together.
Recorded Price
Prices for the Victorinox Damascus models tend to range significantly depending on the year and availability, with a general range from $500 to over $1,000.
Reasons Behind the High Price
The process to create Damascus steel is labor-intensive and requires a high level of skill, thus adding to the cost of these knives. Also, since these SAKs are 'limited edition' models, each model is produced in limited quantities, leading to increased demands and hence, a higher price tag.
Final Thoughts
As we wrap up this exploration of the most expensive Swiss Army Knives, it's clear these are not your everyday multi-tools. They are unique pieces of artistry, precision, innovation, and history, each carrying a tale of their own.
Whether it's the dazzling beauty of the Victorinox Swiss Army Platinum Diamond Knife, the sheer size of the Wenger Giant, or the historical heartbeat of the Wenger 1893 Heritage, each of these expensive SAKs carves its own niche, thereby commanding a 'hefty' price. 
But remember, the value of such items always lies in the eye of the beholder! So, are they worth it? That's a question only a true Swiss Army Knife lover can answer!